Trash Removal – No Longer a Problem
Do you have a trash-related problem? Whether you need a temporary fix or long-term solution, Rent This Dumpster is the solution to your trash removal problems. We provide the equipment and manpower you need to free your commercial, residential, or municipal properties of unwanted items and refuse. How can Rent This Dumpster help you keep your home or business in Massachusetts clean and clutter-free?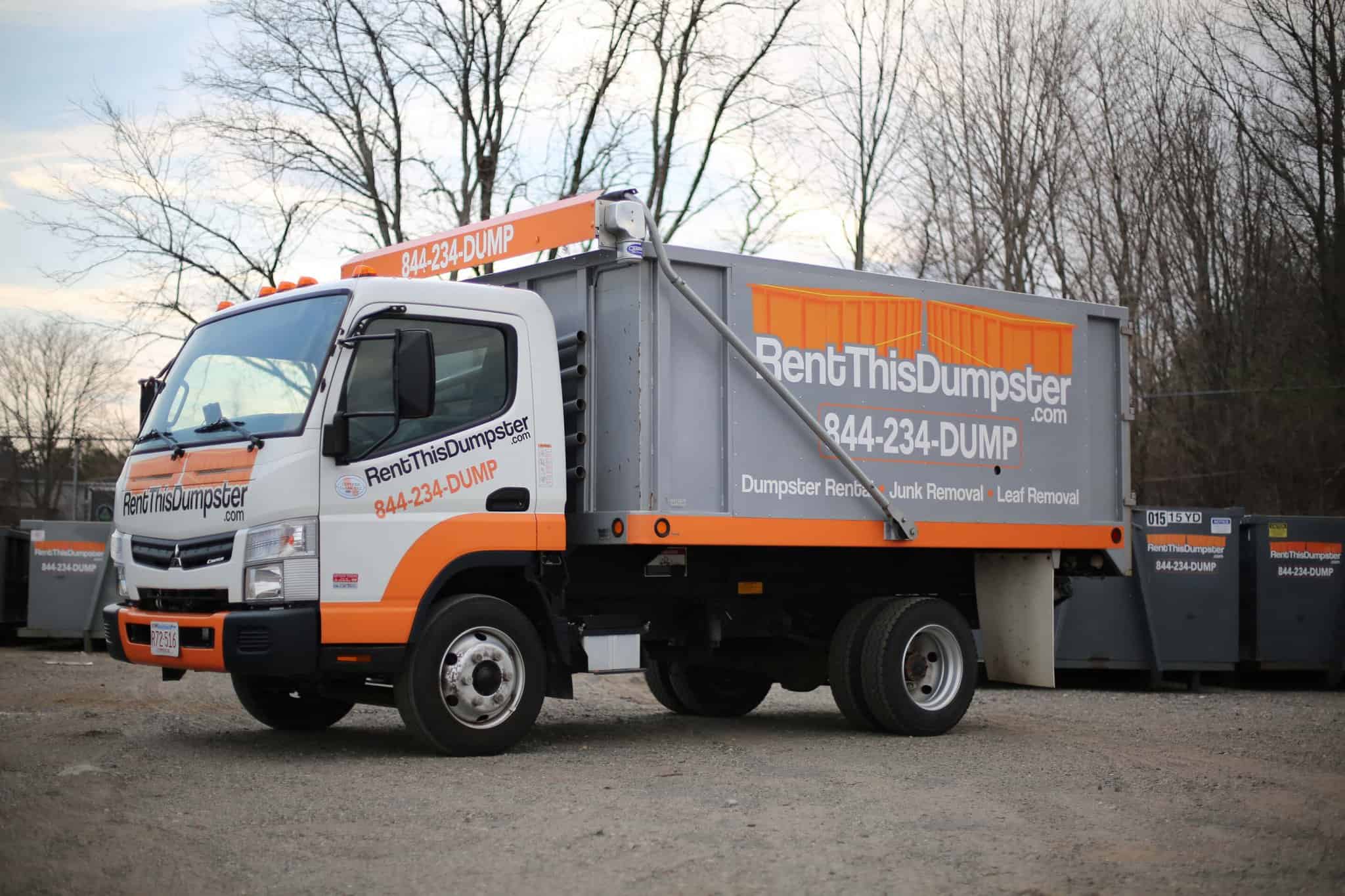 Trash Removal for Inconvenient or Rural Properties
Rural areas outside of Boston city limits can have a tough time getting the same services as their metropolitan neighbors. Things like weekly trash collection and disposing of construction refuse is a big concern for those in out-of-the-way locations. Rent This Dumpster operates all across the state of Massachusetts. Our drivers are local, which means they have intimate knowledge of the area in which they work. We can help residents and business owners in hard-to-reach locations keep their properties sanitary.
Rent a dumpster for your complex or property. We will deliver, install, and retrieve the container on your schedule. We 3 sizes available to fit your space restrictions, projected usage, and budget.
Need to clear out an abandoned rental property or family estate? Our full-service trash removal options are a great way to get rid of a lot of stuff fast.
Get some help rehabbing your property with Rent This Dumpster. Our technicians can remove that old shed, fire pit, porch, pool, or other small structure so you can take full advantage of the available landscape.
Rent This Dumpster offers
trash removal
services that benefit rural businesses and homeowners.
Get All-in-One Pricing for a Variety of Trash Removal Services
It happens often. You receive a quote for services that sounds reasonable. However, when the bill arrives, you find yourself paying 2 or 3 times more than the original estimate. With Rent This Dumpster, you won't have to worry about extra fees and unexpected charges. The fees for our dumpster rentals and trash removal services are all-inclusive. There are no fuel surcharges or labor fees that pop up at billing time.
Sometimes, extra charges are necessary. When that happens, your Rent This Dumpster representative will clearly explain the purpose of each charge. We offer free, no-obligation quotes at your property. This allows our agents to give you the most accurate cost estimate possible. If you don't find our rates or services satisfactory, we won't attempt to change your mind with high-pressure sales tactics.
Whether you're renting a dumpster for a weekend event or taking advantage of our trash removal services to get your property ready for the next step, Rent This Dumpster always gives you clear and easy to understand prices.
Get started on your online dumpster order
Enjoy Flexible and Personalized Options for Your Trash Removal Needs
Rent This Dumpster makes it easy for you to get the trash removal services you need in exactly the way you want. Our online options and personalized services ensure that your experience is quick and convenient.
Do you need your job done during non-traditional hours? Call our representatives to schedule your rental pickup, drop off, or junk removal. We can accommodate most time requests.
Want to plan ahead? Order your dumpster using our convenient online ordering form. You can also make payments online using your debit or major credit card. We also accept payment via Bitcoin.
Need more personalized information before you make your decision? Our technicians will come to your property, assess what needs to be done, and give you an on-the-spot price quote.
With Rent This Dumpster, you only pay for what you use. Choose a dumpster with just the right capacity for your project to avoid paying for empty space. If you choose our full-service junk removal, you only pay for the space that your trash takes up in our trucks. Each load is measured to the nearest 1/8 to ensure fair pricing.
Rent This Dumpster makes it easy for property managers and owners to afford the trash removal services they need.
Save Time with Full-Service Trash Removal
Planning an event, redesigning investment property, or adding features to an existing home are all labor-intensive projects. When you add in the daily duties of life, construction projects leave you almost no time to get everything done. Work with Rent This Dumpster to reduce the demands on your precious time.
Don't waste employee time with drives to the local dump. Put a dumpster at your construction site for quick and easy disposal of construction waste.
Clean out your attic, basement, or storage space without lifting a finger. Just show our technicians what needs to be taken out. We'll do all the rearranging, sorting, digging, and lifting while you attend to other business.
Reduce clean-up time after large gatherings or community events. Have a dumpster delivered before vendors and participants show up to catch all the discarded wrappings, broken merchandise, and other litter generated during the event. A dumpster is also a great place for hired helpers to dump the trash cans arranged throughout the venue.
Rent This Dumpster makes trash removal simple for everyone in Norfolk, Bristol, Plymouth, and Suffolk counties.
Contact
our representatives today to schedule your free on-site junk removal estimate.
How to Order a Dumpster?
With Us That's How!
Getting rid of unnecessary junk can mark the beginning of a more organized and clutter-free environment for homes and workplaces. Contact us today to discuss disposal needs for a free estimate or further information on how to order a dumpster.