A Quality Dumpster Rental Service Makes Waste Management Easier
Our homes, offices, and industries are natural generators of waste. This is because we regularly purchase items, use them, and eventually look to get rid of them after they have served their purpose. In order to properly manage waste in the home or office, you can benefit from having a dumpster of the appropriate size on site. A dumpster rental can enable you to have the much-needed space that you need to remove trash, yard waste, unwanted appliances, and furniture from the home.
At Rent This Dumpster, we offer dumpster rental services that are suited to meet your waste disposal needs. We stock dumpsters of multiple sizes that can hold many different types of waste. To sweeten the deal, we deliver the dumpster on-site and pick it up after you have it filled.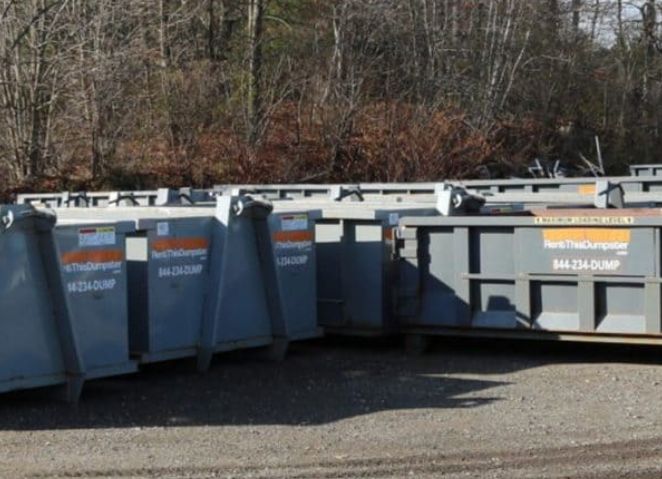 Why you need reliable dumpster rental services
When looking to hire a dumpster, not any company can get the job done. You need a dumpster rental that is dependable, cost-effective, and adaptive to your needs. Reliable dumpster rental services are important for the following reasons.
Getting rid of multiple types of waste
One of the biggest reasons why you need a reliable dumpster rental service is because of the many different types of waste that you can get rid of in a dumpster. Once delivered on site, you can place unwanted furniture, old and unused appliances, clothing items, and many other undesired objects.
Regular household and business waste can also be placed in the dumpster for it to be hauled away when the rental period is over.
Managing your waste better
With a dumpster on site, you can manage waste better on the premises. Rather than stuffing unwanted items in basements, attics, and corners of rooms, you can sort through your items in real time and dispose of the unwanted portions in the dumpster. This will reduce the likelihood of junk taking up too much space in the home and even becoming a breeding ground for pests.
In addition, dumpsters on site come in handy after completing yard work. You can immediately place all your yard waste in our dumpsters rather than piling them in other areas of your property.
Working on your own schedule
Dumpster rentals enable you to manage waste on your own schedule. You can slowly fill up the dumpster over the time you have it rented, giving you flexibility as you straighten out your home or business.
And because there are multiple sizes of dumpsters that you can rent, you don't have to worry about running out of space if you have a lot of waste to get rid of.
The last thing you want when dealing with waste is to have a dumpster company breathing down your neck about their dumpster. Indeed, reliable dumpster rentals offer flexible rental periods. You may think that you only need a week to get your dumpster filled, only to find out that you will need 3 weeks.
At Rent This Dumpster, we start off with a two-week rental period on all our dumpsters. We give you plenty of time to manage your waste and to fill your dumpster to its required levels before we come pick it up. And if you need extra time, simply call us and inform us of your new timelines.
Get started on your online dumpster order
What makes our dumpster rental services stand out from the rest is our attention to detail and the fact that we go the extra mile to offer outstanding services.
Here's why you should look no further than Rent This Dumpster when looking for a dumpster to manage waste on your premises.
Easy and simple rental process
If you need a dumpster delivered to your home or business, all you need to do is call us or order online. We respond quickly to customer requests and can have a dumpster delivered to your premises in a short amount of time. Our payment methods are also equally flexible, and we can accept payments online or in person.
Our website contains our dumpster inventory as well as pricing and delivery options. In this way, we are committed to making our dumpster rental process easy and simple to complete.
Services to multiple Boston suburbs
If you reside in and around the Boston area, you can enjoy our reliable and convenient dumpster rental services. We provide our services to counties such as Bristol, Plymouth, Norfolk, and Suffolk.
Homes and businesses in these areas can enjoy timely delivery and pickup of their dumpsters at competitive prices.
We haul away many different types of junk
Apart from biological, chemical, and hazardous waste, we allow many different items to go into our dumpsters. Rather than placing unnecessary restrictions on our customers, we strive to offer flexibility and control to your waste management process. Feel free to dispose of your construction waste, yard waste, old appliances, and household garbage.
For any dumpster rental to be of value to your premises, you need a reliable pickup and drop off services. The most inconveniencing thing can be waiting patiently for your dumpster to arrive, only for it to delay. It can be equally inconveniencing to remain with a full dumpster on site for more days than you had anticipated due to a delay in pickup from the rental company.
At Rent This Dumpster, we never subject our customers to such inconveniences. We guarantee timely delivery and pickup of our dumpsters from your premises.
Because Rent This Dumpster offers many different dumpster rental services, we also provide different sizes that are meant to fit the needs of your home or business. Our dumpster sizes come in 3 main variations: 10, 15, and 20 cubic yards. You can get the size that is best suited for your premises, without wasting space or running out of room.
Our full inventory of dumpsters is always available on our website for customers to view. In addition, we work with you to deliver the dumpster on site. We can fit our dumpsters into seemingly small spaces on your property without blocking driveways, cars, or infringing on your neighbor's space.
How to Order a Dumpster?
With Us That's How!
Getting rid of unnecessary junk can mark the beginning of a more organized and clutter-free environment for homes and workplaces. Contact us today to discuss disposal needs for a free estimate or further information on how to order a dumpster.