If You Have Junk, We'll Take Care of It
Junk is our life. We know it may sound silly, and it's not very glamorous, but it's what we do every day. We take pride that no one does it better or offers more professional and service-oriented dumpster rental or junk removal services. The bottom line is, if you have junk, we will take care of it.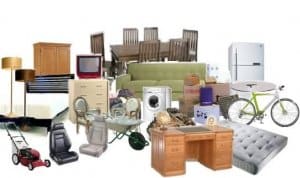 Residential junk, construction, and commercial debris, at Rent This Dumpster we handle it all. Since our founder, Anthony DePaolo, set us on course in 2002, our owner operated business has specialized in providing professional dumpster rental and junk removal services, superior customer care, and affordable pricing. Our job is to get rid of your junk and debris.
At Rent This Dumpster, we can handle removal of:
If you have questions about something you want to be removed from your property, give us a call. If you need it gone, we will make it disappear.
Dumpsters aren't just for businesses, contractors and construction sites. We know that homeowners have debris and junk just like everyone else. Over the years, our many residential customers have taken advantage of the ease of scheduling a dumpster to their property. They can then fill it with their junk and schedule removal at their convenience.
Our dumpster rentals come in the following sizes:
10 cubic yards – Equivalent to four full pickup loads
15 cubic yards – Equivalent to six full pickup loads
20 cubic yards – Equivalent to eight full pickup loads
Ordering the right rental dumpster for your junk removal is simple. Contact us online or give us a call. If you're not sure what size you require, one of our professionals will assist you in selecting the perfect dumpster for your junk removal needs.
When to Consider a Dumpster Rental
We pride ourselves on making customers satisfaction a priority. That means we don't try to sell unnecessary services. We want to earn your trust so that you come to us for all your junk removal needs. That's why we want you to know when it is a good time to rent a dumpster and when you might consider another solution.
If you have only a load of junk to take to the dump or a charity, and there are no physical limitations that would affect you moving the items, it may be best to take some time and load it in your car or pickup and handle it yourself. On the other hand, a dumpster rental may be a necessity if you are:
Doing a home or business renovation that will generate construction type debris like drywall/sheetrock, wood, glass, tile, siding, concrete and the like
Involved in a large yard or landscape project, removing vegetation, trees, shrubs, yard toys, yard furnishings and equipment
Disposing of furniture, exercise equipment, appliances, televisions and other large home items
Disposing of office equipment like printers, photocopy machines, file cabinets, desks and chairs
Look over your clean-out project and make a note of the items to be removed. If it is more than you can handle, please give us a call, and we'll see that the right rental dumpster for your project is delivered to you. When you're ready, we'll return to haul away all of your junk.
Get started on your online dumpster order
Our Junk Clean Out Services Simplify Your Junk Removal Jobs
It can be overwhelming, buried under a mound of clutter, junk, and debris. Space for a rental dumpster might be limited on your property, or you might just find it hard to know where and how to start the cleanup. Take a breath and let a professional Clean Out team from Rent This Dumpster handle the work for you.
Hauling debris and junk from the yard or house to a dumpster may be more than you can handle. Even worse, loading up the family car or pickup, making trips to the landfill and then going back for more loads and more trips can be exhausting and time-consuming.
That's where Rent This Dumpster Clean Out Services comes in. Whether it is yard clean up, attic cleanout or eliminating office junk, our professional junk removal and clean out service can take the worry and stress from your clean up project.
Schedule a Clean Out service appointment and we will:
Send our uniformed clean out professionals to your home, business, construction site or other location.
Our professionals will remove all junk from any location on your property and load it in their truck
The junk will be hauled away, and depending on the type of items removed, it will be sorted, recycled, donated to charity or disposed of safely and properly
Well, we can't take chemicals, biological waste or hazardous materials. Other than that, we have you covered. Virtually anything that qualifies as junk is in our domain, and our junk and debris removal professionals will handle all the dirty work for you.
Available throughout the Boston and South Shore region, our dumpster rental and clean out services make disposal of your junk, clutter, and debris simple. Just give us a call today or contact us online and schedule your dumpster rental or clean out service. We want your junk!
How to Order a Dumpster?
With Us That's How!
Getting rid of unnecessary junk can mark the beginning of a more organized and clutter-free environment for homes and workplaces. Contact us today to discuss disposal needs for a free estimate or further information on how to order a dumpster.