6 Ways Professional Junk Hauling Makes Your Life Easier
Does your home need some spring cleaning? Releasing clutter is the first step in creating a clean, manageable, and organized home. Whether you've spent the weekend sorting through your attic, clearing the backyard of weeds and plant debris, or removing the entire contents of outside storage sheds, using professional junk hauling services will save you time, money, and physical frustration. Here are some of the reasons you should get help with your cleaning project from Rent This Dumpster.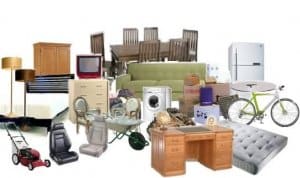 1. Avoid Working Up a Sweat
Junk hauling is hard work. Don't strain your muscles or risk physical injury. Let the experienced Rent This Dumpster technicians handle all of your dirty work. Just show them what needs to be done and our work crews will haul away almost anything you might have to dispose of, including:
Bed frames and mattresses
Large and small appliances
Computers, printers, and monitors
We bring shovels, wheelbarrows, and all the tools needed to get your job done. All you need to do is say what goes and what stays. Don't bother dragging bags, boxes, and larger items out of corners or into halls. Our workers will enter the room (with your permission) and do all the lifting, pulling, and rearranging themselves.
The only items we are not able to accept are anything illegal or potentially hazardous. Not sure if your items qualify? Give our customer service representatives a quick call for more personalized advice.
2. Don't Rent More Than You Need
Dumpster rentals are a possible alternative to junk hauling. But do you really need that much space? Unless you're cleaning up after a major remodel or inviting the entire neighborhood to use your dumpster, chances are even the smallest unit will be too big for your purposes. Regardless of how much refuse you deposit, you'll still have to pay the same price for dumpster delivery and removal.
Rent This Dumpster only charges clients for the space their junk takes up in our truck. Each load is measured in 1/8 increments. That means you never pay for more than you actually use and won't waste money on a giant container. Whether you're dumping a little or a lot, our mega-sized trucks can accommodate your junk.
3. Get Clear and Upfront Pricing
Don't get confused with extra fees, surcharges, and additional services. With Rent This Dumpster, you pay one flat fee for pick up and removal of your unwanted items. You won't have to worry about unrealistic quote prices that mysteriously balloon to twice their size when the official invoice comes. We can give you a general estimate over the phone. Upon arrival, our crews can give you a more accurate price quote. This gives you a chance to change your mind before services are rendered. Best of all, any work done by our crews won't cost you any extra. Our physical labor is integrated into the total price. With Rent This Dumpster, we make sure you always understand exactly what junk hauling services are included in your price.
Get started on your online dumpster order
Get rid of your trash in an environmentally friendly way with Rent This Dumpster's junk hauling services. Your refuse is brought back to our facilities where it is sorted for proper disposal. Items that can be repaired or reused are sold to shops where they can benefit local charities. Recyclable items are separated and sent to the right processing plants. Only true rubbish is taken to the landfills. Our sorting process lessens your impact on the environment, provides income opportunities in local communities, and preserves precious resources for future generations to enjoy. As usual, these services are included in our regular rates.
5. Get Help with Your Small Demolition Project
Rent This Dumpster does more than just junk hauling. Our technicians can help you clear your property of old pools, damaged decks, broken concrete, and outdated sheds. We have access to a Bobcat that makes easy work of your small outside structure. After demolition, we will clear away all the debris, leaving your property ready for the next step.
Call our representatives to learn more about demolition services available in Barnstable, Bristol, Norfolk, Plymouth, and Suffolk counties.
6. Enjoy Convenient and Personalized Service Options
Do you need your junk hauling done outside of traditional daytime hours? We are always happy to accommodate your schedule. Let us know what times work best for you, and we will do our best to meet your needs.
Rent This Dumpster's online scheduling makes securing your place in line easier than ever. Just enter your details on our website and we'll take care of the rest. Make payments online too using your Visa, MasterCard, American Express, or bank debit card. We are also able to accept Bitcoin for all of our transactions. As a Verified Merchant with Authorize.Net, all of our online transactions are guaranteed safe and secure. Of course, we can still accept your personal check. With Rent This Dumpster, you have the ability to choose the way you pay for junk hauling.
Save Time, Money, and Frustration with Junk Hauling from Rent This Dumpster
Get the clean and organized home you've always wanted with help from Rent This Dumpster. You'll get precise and professional help at competitive prices. Let Rent This Dumpster handle the junk hauling needs for your home or small business and free your daily routine from clutter and wasted space.
How to Order a Dumpster?
With Us That's How!
Getting rid of unnecessary junk can mark the beginning of a more organized and clutter-free environment for homes and workplaces. Contact us today to discuss disposal needs for a free estimate or further information on how to order a dumpster.