5 Reasons to Choose Rent This Dumpster for Your Junk Removal
Clutter takes up precious space and creates hazards that endanger visitors to your home or commercial property. Renting a dumpster makes cleaning up overstuffed spaces easier and more efficient. However, decluttering your storage is heavy work. Besides the physical strain of lifting, the process of moving and rearranging is a drain on your precious time. Hiring a junk removal service save time, money, and back strain. Here are several reasons why you should choose Rent This Dumpster to remove your residential, commercial, and construction refuse.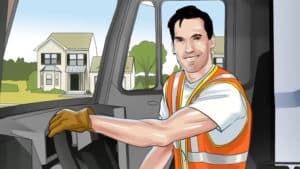 Flexible Pricing Structure
When you choose Rent This Dumpster for your junk removal, you only pay for what you use. Instead of wasting money on a full dumpster or multiple trips to the dump, Rent This Dumpster customers are only charged for the space their items take up in our removal trucks. After the minimum load fee, charges are incurred for every 1/8 of the truckload. This ensures that pricing is fair and accurate.
Rent This Dumpster offers free on-site quotes for your junk removal. Get a no-obligation estimate before you commit to our services. Simply show our technicians what you want to haul and get a price quote on the spot. With fees starting at $110 for a minimum load, Rent This Dumpster offers competitive pricing in Eastern Massachusetts.
Some items and services may incur additional charges. Our representatives will discuss all charges before you make a commitment.
The technicians from Rent This Dumpster do all the heavy work. You won't need to lift a finger. Simply point out what needs to be removed, then relax and watch your unwanted items disappear. Don't worry about gathering all your items in one area. Our technicians will take your trash from the basement, attic, storage shed, or any area of your property.
Is your job a bit more complex than just old furniture and clothing? Rent This Dumpster technicians are equipped with shovels, rakes, dollies, and wheelbarrows to help you haul landscaping waste, discarded building materials, and more. We can even take on your small demolition project with our bobcat service. These services are available at no extra cost. With Rent This Dumpster, you only pay for the trash we remove. Our labor is included in your removal fees.
Once delivered to our facilities, your refuse is sorted for proper disposal. Rent This Dumpster works with local recycling centers and charities to reduce the impact of waste disposal on our natural resources. Whatever cannot be reused or repurposed is sent to the landfill. Choosing Rent This Dumpster for your junk removal is a simple way to clean your space in an environmentally friendly way.
Get started on your online dumpster order
Local Knowledge and Superior Customer Service
Rent This Dumpster is a local Massachusetts company. Our junk removal service area includes Suffolk, Plymouth, Norfolk, Bristol, and Barnstable counties. Our local knowledge and concentrated service area mean our customers get a fast and friendly response every time they call. When you need more information, our telephone representatives can help guide you to the best solution for your project.
In an effort to show our appreciation for the support our customers provide, all Rent This Dumpster drivers, technicians, employees, and equipment are fully licensed and insured. That means any accidental damage to your property is always fully reimbursed. The professionals at Rent This Dumpster strive to deliver helpful, accurate, and consistent service.
Big Trucks Mean More Savings
Our giant junk removal trucks are designed to handle loads of all sizes. One truckload holds the same capacity as a 15-yard dumpster. That decreases our need to unload frequently, which means we pay less for gas and vehicle maintenance. We pass those savings on to our customers in the form of lower prices. Whether you just want to get rid of a few old couches or need to clear out your yard after a major renovation, Rent This Dumpster's removal trucks have the capacity to take your trash away.
We know your time is important. Since our big trucks can handle a lot of rubbish, our customers don't have to wait as long for pickups. Our convenient online scheduling and payment options also reduce the amount of time you need to spend making arrangements for junk removal. Rent This Dumpster saves you time and money!
Customizable Services for Your Specific Needs
Whether you need to make room for brand new appliances or you recently finished a major addition to your home or commercial building, Rent This Dumpster makes your clean up process easier. Using tools and expert techniques, our technicians can haul almost any amount of non-hazardous materials within hours.
However, junk removal isn't the right answer for every situation. If you prefer to do your own disposal, need more time to complete your project, or have more waste than our trucks can hold, a rental dumpster may be the best alternative. We offer 3 dumpster sizes to fit your needs and property restrictions. Our customer service representatives are always available to discuss your best options.
When you need local, reliable, and efficient junk removal services in Eastern Massachusetts at rock bottom prices, choose Rent This Dumpster.
How to Order a Dumpster?
With Us That's How!
Getting rid of unnecessary junk can mark the beginning of a more organized and clutter-free environment for homes and workplaces. Contact us today to discuss disposal needs for a free estimate or further information on how to order a dumpster.