5 Questions to Ask About Your Affordable Dumpster Rental
When you need to rent a dumpster, the price is often a critical factor in your buying decision. However, there are other things to consider when contemplating which affordable dumpster service with which to work. Here are some questions you should ask the next time you're shopping around for dumpster rentals in Massachusetts.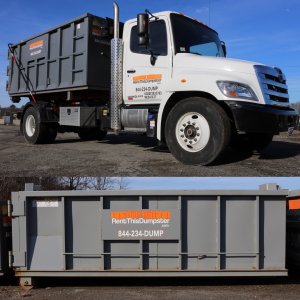 What Services are Included in My Rental Price?
All affordable dumpster rentals are not the same. Some companies offer you low prices to get you to commit. Once you sign the contract, added fees and extra charges come crawling out. Don't get nickeled and dimed out of your cash with shady discount firms. Choose a company that includes all services and fees in one easy-to-understand price.
The price of a genuinely affordable dumpster rental includes the cost of delivering and removing your container and ethically disposing of your refuse. With Rent This Dumpster, these services are automatically calculated into your price. Any additional costs are discussed during the rental process. If questions do arise about your billing, our customer service department will happily explain the details. Best of all, we can offer all these great services at a price that is consistently lower than the competition. When you get your container from Rent This Dumpster, you never have to worry about shady billing practices and hidden fees.
Can You Help Me with Other Clean Up Chores?
There are times when you need more than a dumpster rental. In those situations, could you rely on your dumpster rental company? National companies often have limited capacity to serve the needs of their customers. To keep their costs low, they only offer bare-bones services. If you need help with hauling, demolition, or yard clean-up, you'll probably be left on your own.
Rent This Dumpster gives rental customers the options they need to get their job done. From removing useless junk from your attic to light demolition projects like sheds and small ponds, we are here to lend a helping hand. Our junk removal services are the ideal solution for cleaning out the family home before or after moving, making room for new pursuits, or to freshen up your property after renovations. Even the most affordable dumpster rentals aren't enough for every chore. During those times, trust Rent This Dumpster to help with your property clean-up project.
Get started on your online dumpster order
Is Your Company Headquarters in Massachusetts?
Working with a local company has many advantages. Big corporate companies you find on the internet may seem to offer you a good deal. However, when you add in the cost of inconvenience, lack of local knowledge, and faceless representatives that treat you like a number on a spreadsheet, the true cost soon becomes clear.
Rent This Dumpster exclusively serves Norfolk, Bristol, Plymouth, and Suffolk counties. This specialization allows us to offer more variety of services and equipment selection. Customers also love the fact that our representatives live where they work. Rural addresses, construction sites, and other hard-to-reach locations are no challenge for our team. Don't waste hours giving directions to a disinterested voice on the phone. Get your affordable dumpster rental from your Massachusetts neighbors at Rent This Dumpster.
What Options Do I Have for Making Payments and Appointments?
When it comes to rental dumpsters, one size rarely fits all. Besides offering three different container sizes to meet our customers' needs, Rent This Dumpster makes your convenience a priority in other ways. We understand that busy schedules, special circumstances, and personal preferences are an important part of a positive customer experience. For this reason, we go out of our way to customize your affordable dumpster rental.
Do you need delivery or pick up outside of regular work hours? With enough notice, our customer service representatives can accommodate most requests. Online payment and equipment reservation options make renting your discount dumpster even easier. Our modern payment options include major credit cards and Bitcoin. Bring your requests to the attention of our professional staff members for prompt and personal care.
Rent This Dumpster is the answer to your questions about affordable dumpster rentals in the state of Massachusetts. Our mission is to make trash and junk removal simple, inexpensive, and appropriate for everyone. These are just a few of the reasons why Rent This Dumpster is your best choice for container rentals in Massachusetts.
How to Order a Dumpster?
With Us That's How!
Getting rid of unnecessary junk can mark the beginning of a more organized and clutter-free environment for homes and workplaces. Contact us today to discuss disposal needs for a free estimate or further information on how to order a dumpster.